Artificial windows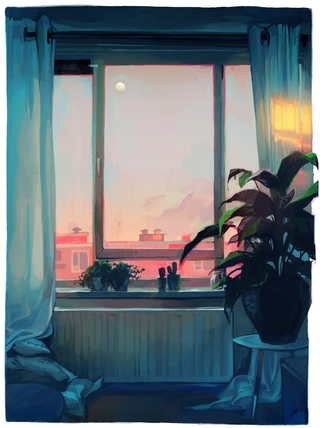 My study is in the basement of Hill House. It's a good-sized room, with a few weaknesses. There's no ventilation in the room, for example. I compensate by leaving the door open, and running a fan sometimes. It's a nice room, with one fatal flaw: There are no windows.
I would be happy writing in this room forever if I could just have a little daylight. But if I put a window in one of these walls, a few tons of dirt would break the glass and come spilling through. I'd drown in soil, among worms and moles.
I'm not a particularly handy person, so building something like this is out of the question. I've already tried daylight bulbs, and while they're helpful, they don't transport me.
That leaves me with art. I've covered the walls with dozens of framed pieces. Of all of them, perhaps the one above most resembles an actual window. It's a little digital piece, called "Sunset," by a Dutch artist named Lois van Baarle. It's not a real window, of course, but when this room feels a little airless and cave-like, it helps.